I am not a war photographer, I am a photographer capturing a conflict in my country.. It is about the pictures I haven't taken.
On 24 February 2022, Julia Kochetova woke up in the city of Kostyantynivka to the news of the Russian invasion of Ukraine. Her phone had over forty text messages from editors, friends and a message from her mother saying they were sheltering in the basement. "When war broke out, I was on a film assignment with my producer Dima in the Donetsk region, we drove as fast as possible to get Dima back to Kyiv to join his old military unit which was defending the city." It was in the car that Julia captured her first image of the invasion. This selfie on Instagram went viral across the globe, reaching over 3.5 million accounts. The image is cropped, all you can see is half of Julia's face, the side of her head gear and her long plait covering her chest protector. "I took that image because I was so angry… I was angry with the whole world. The war hadn't just started, it had been happening in Ukraine for over 8 years; silence always kills."
Born in the city of Vinnytsia in west central Ukraine and raised in Kyiv, Julia was taught at an early age to use a camera by her father who was an amateur photographer. "I was lucky growing up, I had very supportive parents. When money was scarce, they still found a way to buy me paint and paper. At the age of five, my father gave me my first camera. He taught me about storytelling, often sharing his knowledge about composition, light and framing. After training at the art school in Vinnytsia, she went on to do a Master's in Journalism at Taras Shevchenko National University (UA) and Mohyla School of Journalism (UA); this led to assignments covering the Maidan revolution and the annexation of Crimea in 2014.
Over the past 15 months, Julia has been on assignment for major media outlets including Time, Vice, Bloomberg, and Der Spiegel, covering the region of Irpin captured by Russian forces shortly after the invasion, the frontline in Bakhmut, the missile attack in her hometown of Vinnytsia and the relentless fighting in Donetsk Oblast. "On the 26 February, I woke up to loud explosions raining down on a residential street near my home in Kyiv. I grabbed my camera and since that moment I haven't stopped working. I am anxious to stop. I have a responsibility to tell my story, to share an honest depiction of my country under invasion. It is the one story I know is the absolute truth."
Since February 2022, Julia has been creating unique visual diaries on her Instagram to document the war. Each image is accompanied with a written personal account that echoes the photo, whether this is a piece of poetry, a story or a sequence of broken sentences from her thoughts. "In history lessons at school when you learned about World War II, you would just hear about numbers, whether this was dates, data or the number of casualties. But what about the civilians' actual stories? Where were the personal and truthful accounts? I am creating these visual diaries to share my voice, to raise awareness and to keep bringing this devastating war to the forefront."
For the one-year anniversary of the war, Julia was chosen to take the leading front cover for Der Spiegel of President Volodymyr Zelensky at the Ukrainian Government Building. "Before the interview, we were negotiating with the President's team about the location for the portrait. I noticed an exhibition with portraits of Ukrainian soldiers, the first portrait was of Andrii Verhoglyad, one of our youngest commanders in the 72nd brigade who was killed on the 22 June near Svitlodarsk in the Donetsk region. I knew this was where we should take the portrait. In a statement on Instagram, I urge everyone to remember the ones who stand behind the spotlight."
A key part of Julia's work is to capture images with hyper-sensitivity and awareness particularly when the subject is around trauma. "I am not a war photographer; I am a photographer capturing a conflict in my country." Last summer, Julia was in the Donetsk region and in the only remaining open supermarket, she noticed at the cash desk there was a disabled young woman working at the till and behind her there were a bunch of soldiers laughing while they were buying cigarettes. "At that moment, I thought this is such a heart-wrenching and strong visual depiction of war. When I started to take out my camera, she looked at me and I can see she is begging in her eyes for me to not take the picture. I will not make this pain bigger for someone else. My photo is not worth anything unless I have the other person's consent. Would I be OK if someone was to take a picture of me like this? There are boundaries. I often think, it is about the pictures I haven't taken."
At the heart of Julia's photography is the importance of absolute accuracy. Each image must capture a truly authentic story that does not 'dramatise' the conflict nor intrude on someone's privacy. "During war, there are many vulnerable and sensitive stories I want to share with the world but there is a process. Once you have consent from the subject whether this is a nod or hand gesture, you should be really slow and patient when you press the shutter. Once you have the image, leave the scene as soon as possible. You are just a witness; this is not your life. You can capture this moment, but you cannot steal this moment."
Through all the terror, grief and destruction that has happened in the last year, Julia has been able to share empowering stories that look beyond the war. Last month, her images were published in Bloomberg for a story about climate resilience in Ukraine. The article shines a light on the positive actions taken by Ukrainian activists, scientists and architects who are delivering a post-war strategy that focuses on clean energy and eco-innovation in the country. "These enriching stories are hugely important; they are so Ukrainian, they highlight our ambition and our forward thinking, even amidst a war that rages on." 
Photo Essay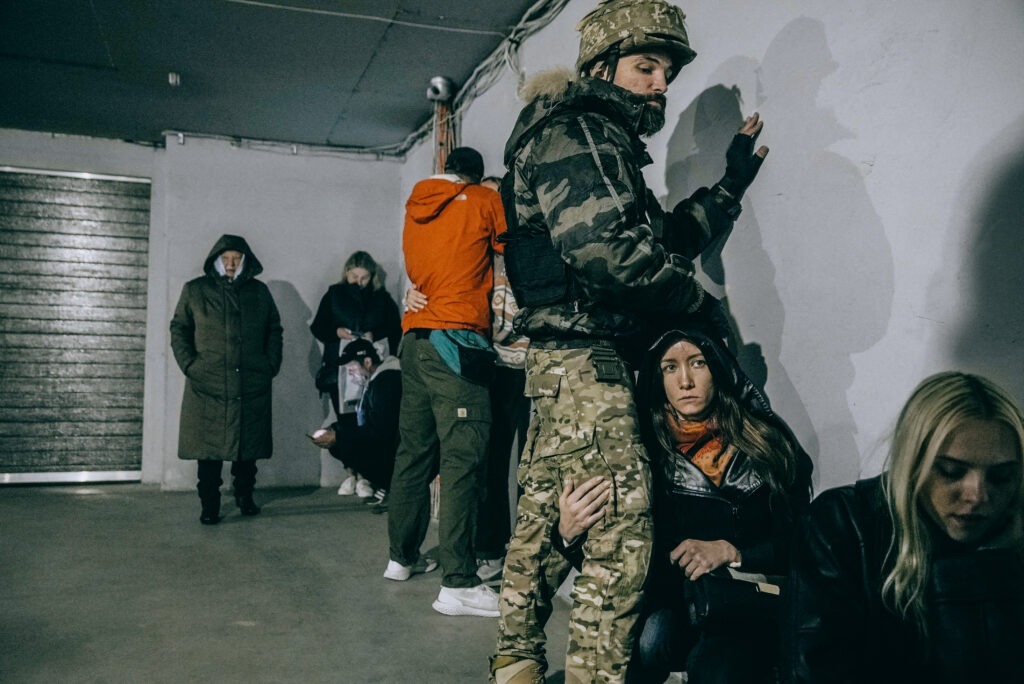 Shahed drones were falling down next to my apartment. I woke up with my boyfriend, wore the vest, took a camera. She was hiding in the underground parking, protected by a soldier.
The young couple was killed right in their bed during this hit. Her name was Viktoria Zamchenko, she worked as a wine sommelier. She was pregnant, died together with her husband because of the Russian attack on 17 October. I still keep thinking that I could be this woman – in the picture, hiding behind the soldier.
Image: President Zelensky taken on assignment for Der Spiegel.