We Will Never Forget
On the 4th August 2020, ammonium nitrate stored in the city of Beirut exploded by the port causing over 200 deaths and 6,500 injuries. It has become a catastrophic humanitarian disaster, with major hospitals in the city badly hit and thousands of people having to evacuate their homes.
The port was a cultural hub for the creative community with many galleries, museums and studios decimated along the waterfront. It has shaken the artworld in Lebanon. An emergency arts fund has been launched in Beirut by a non- profit organisation, Mophrad, in order to support individual creative artists as well as major arts venues including the Sursock Palace, a contemporary art museum.
We spoke to a Lebanese photographer and filmmaker, Omar Sfeir, to hear about his creative response to the explosion and how the arts community in Beirut has been affected.
Omar Sfeir studied painting for 8 years where he developed a fascination for colours, textures and composition; he went on to specialise in cinema, where he studied at the Lebanese University's Faculty of Fine Art. Omar has gone on to make documentaries and short films, with 'Salwa' winning best film at the Cinemaiyat Festival in 2016. His image 'The Lover in Time of Revolution', captured in 2019 gained international recognition and was considered one of the visual symbols of the Lebanese Revolution. Inspired by Magritte's 'The Lovers' (1928), two figures hold each other in a tight embrace, their faces covered in the Lebanese flag. But even though they cannot see, bright light streams through the fabric. There is hope. It is a celebration of new possibilities, free from oppression.
However, when the explosion happened, everything changed.
How do you try to capture and record your experiences?
When it comes to a big tragedy, like the blast, photographs are not enough. My work is not photojournalism. The damage is so big it cannot be contained in one image. But my emotion as an artist is present and I feel it, this is why I try to blend reality and fiction.
Why is photography and film-making important to you? Why are images such a powerful form of expression?
In real life you don't choose what to look at. So much is imposed on you. With photography and film, you can decide. You narrow down because you focus on what you want to see and how this vision makes you feel. I believe it is about bringing your imagination.
What is the creative community like in Lebanon? Has it changed over the past five years?
The creative community is progressing, and we are finding so many new talents who are being unapologetic regarding their politics, their sexual identity and their beliefs. The fall of the regime helped people to break the fear and to go deeper in their quest to be more truthful about what they think and what they advocate for.
Even though there is still censorship in this country from the state it has not stopped artists from communicating and creating progressive work. I hope this will continue.
Can you explain your intention behind making a theatrical image as a response to the blast?
Before the blast I had an image of a politician sitting on his chair and smoking sheesha. Sheesha in Lebanon is part of our culture. For me though, it can have connotations with laziness, someone who smokes all day and doesn't do anything. I wanted him to be blowing his smoke over the people; they are suffocating, falling into a tragic, emotional state.
When you first look at the triptych, the orange colour looks dreamy and vibrant, it looks like the smoke you might find in a techno-festival but for me, this colour now represents fear and anxiety. After the explosion, I looked at the sky and all I could see was this thick orange cloud. I decided I no longer wanted the sheesha smoke to be white anymore, it had to be orange because we all know who is responsible for this big tragedy.
Each individual has their own personal identity and story. What was the reason behind this?
I wanted to portray the cultural and religious diversity that we have in Lebanon. In so many previous artworks, a transwoman or a drag were not included in a big national event or they were not represented correctly and sensitively. This catastrophic event reminds us that nobody asks if you are Christian, Muslim, gay, straight, drag or if you are a woman. Nobody cared, they just held their loved ones and started running.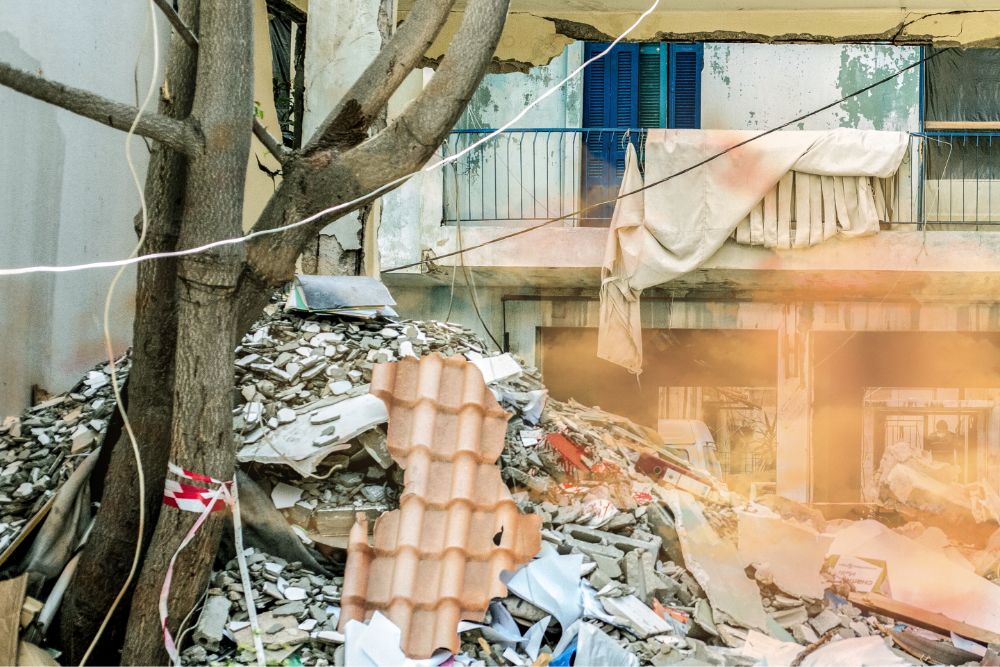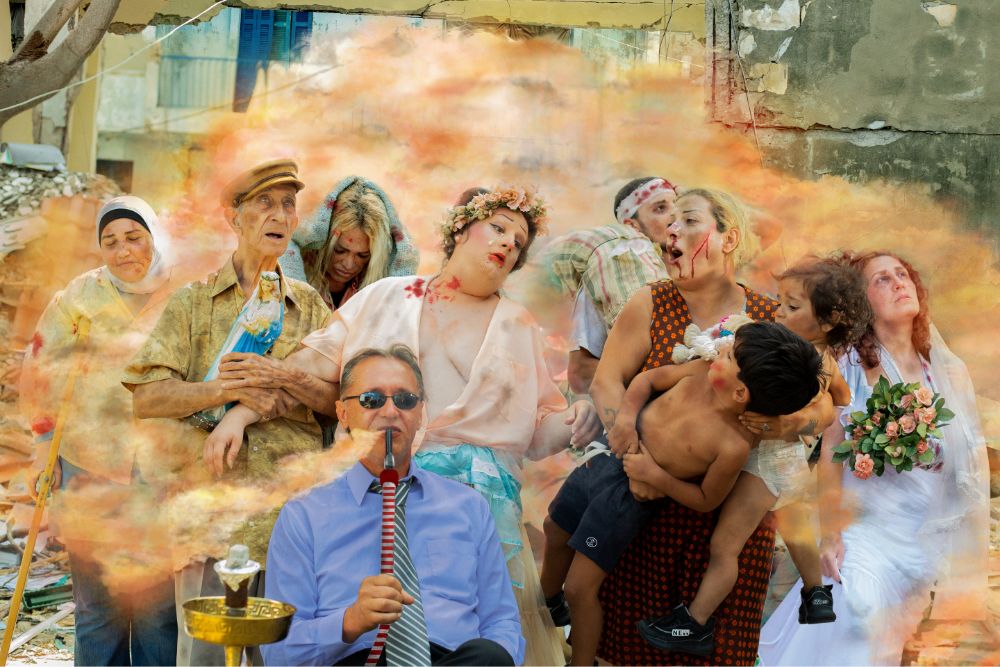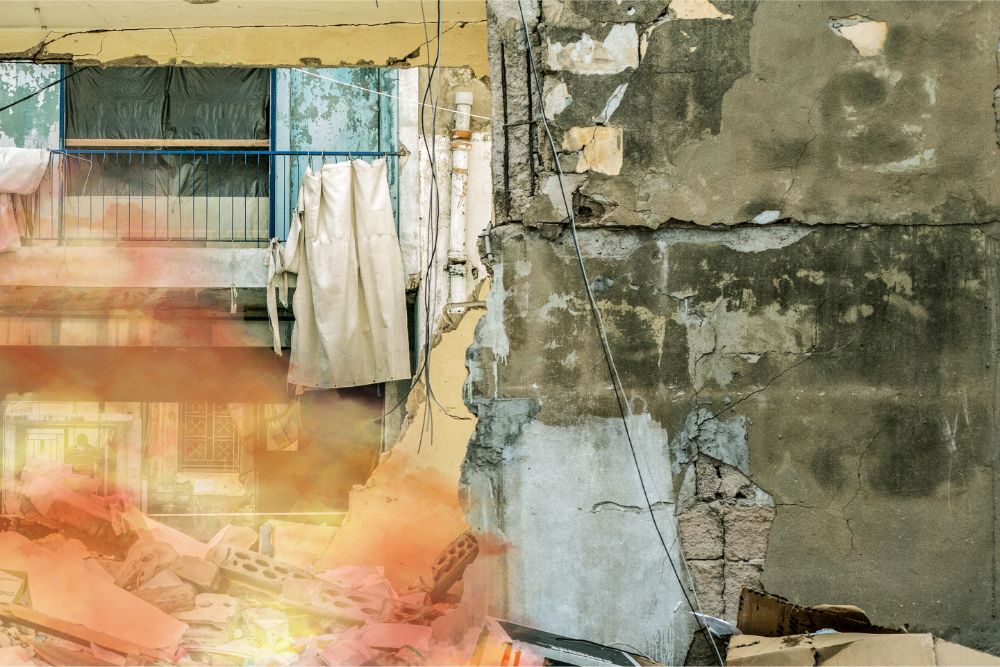 ---
Beirut's port bombing on August 4 happened
Our beloved Beirut was all wearing black.
People were reunited in sorrow.
Their eyes were shouting anger.
Their hearts were pumping with despair.
And their guts jumped from fear.
Even seeing the sunset with orange warm colours is not the same anymore. This photograph is an archive of a specific moment when people had seen death in front of their eyes, running into the unknown not knowing what kind of disaster has happened
The process of making 'We Will Never Forget' has been documented by filmmaker Fares Sokhon. The cast are not actors but survivors of the Beirut blast. Omar brings their individual stories into this moving documentary.
Credits:
Cinematographer: Fares Sokhon
Editor: Omar Sfeir and Fares Sokhon
Production Manager: Sandra Abou Jaoudeh
Sound Design: Sandra Sayej
Sfx- Make up and Special Effects: Cynthia Naoum
Make-up Assistant: Elie Boudjok
Cast: Imad, Fawzyeh, Raymonda, Emile, Dana, Ghinwa, Zeenyin, Tarek and Diva